Simple Tuna Pasta Salad
Every cook has to start somewhere, and this simple tuna pasta recipe was one of the first recipes I learned to cook, thanks to my sister. You could dress this pasta however way you like. Still, for this post, I am keeping true to the original recipe that I was taught when I was a newly graduated high school student. While simple, it fills me up with good memories and shows how far I've come along as a cook.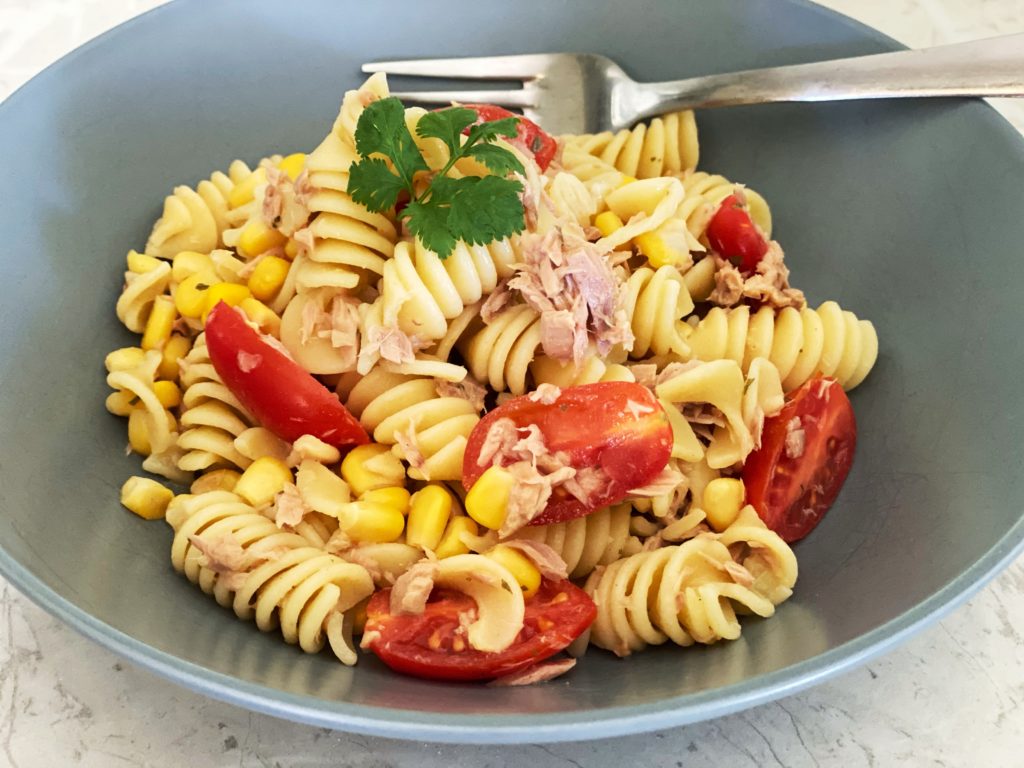 Prep and Cooking Time – 15 minutes | Serves 4 – 6
Ingredients
– 500g fusilli dried pasta
– 50g extra virgin olive oil (EVOO)
– 425g canned tuna, drained
– 420g canned corn, drained
– 250g punnet of grape tomatoes, halved
– salt and pepper to taste
Method
Cook pasta as per packet directions. Set cooked pasta aside.
Heat up a saucepan on medium to high heat. Place EVOO into the hot pot.
Gently fry tuna in the pot for approximately 3 minutes. Season generously with salt and pepper before adding corn. Stir tuna and corn for a further 2 minutes.
Turn off the stovetop. Add the cooked pasta and cut grape tomatoes and stir until all the ingredients are combined.
Serve warm or cold.
Notes and variations
This salad can be enjoyed freshly cooked or cold, making this a great meal to pack for a lunchbox or picnic. Even better is the fact that the recipe's simple method means it's open to variations to suit individual taste buds. I'm keen to try this recipe using one of the many pre-seasoned tuna that's available to purchase at the shop.