Pork Sinigang
Another Filipino favourite of mine is Pork Sinigang (Sinigang na Baboy). It's a really comforting soup which has a unique sour and savoury tasting broth for its base. This soup can be enjoyed on its own or accompanied with steamed rice; my mum would serve this soup with rice downing in it and this is how I serve this dish to my kids. Over the years there have been many variations to how Sinigang attains its unique sour/savoury flavours and for this Thermomix version, I've used Tamarind because not only is it readily available at supermarkets, it is also the traditional ingredient used to make this dish.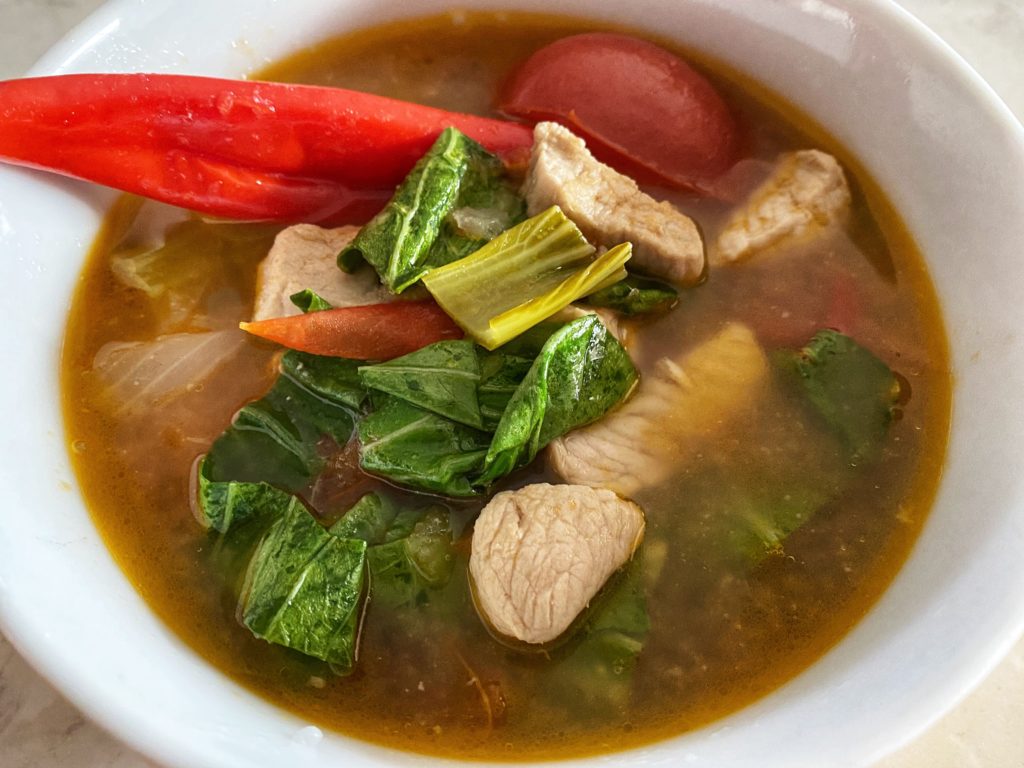 Prep and Cooking Time – 15 minutes | Serves 4 – 6
Ingredients
– 1 small brown onion
– 20g minced garlic
– 5g minced ginger
– 30g olive oil
– 300g pork belly or sirloin steak, roughly cubed
– 900g water
– 2x tomatoes (300g), cut into wedges
– 2 Tablespoons (40g) tamarind puree
– 30g fish sauce (or to taste)
– 3x bunches bak choy, leaves and stalks kept separately
– 1 whole chilli
– 200g green beans or okra
– white pepper and salt to taste
Equipment
– Simmering basket
– ThermoServer
Method
Add onion, garlic and ginger to TM bowl and chop 5 sec / speed 3. Scrape the sides of the bowl.
Add oil and saute 3 mins / Varoma / speed 1.
Add pork and fry 5 mins / Varoma / reverse / speed soft.
Add water, tomatoes, tamarind puree and fish sauce to the TM bowl. Use your spatula to loosen any pork caught under the blades. Bring to a boil 10 mins / Varoma / reverse / speed 1. Meanwhile, place the bak choy leaves in a ThermoServer.
Add bak choy stalks, chilli and beans. Replace the MC with simmering basket. Cook for a further 15 mins / 100oC / reverse / speed 1/MC off.
When finished, pour the soup into the ThermoServer. Leave for 5 minutes for the bak choy leaves to cook. Serve hot on its own as a soup or with rice.