Flat Noodles in Egg Gravy
I was a little girl when I first tried this dish and it has been a firm favourite ever since. Cooking noodles isn't one of my strongest skills so when I somewhat got close to replicating the real thing, I was absolutely stoked. There are many variations to Wa Tan Hor, which is what this recipe is originally called, depending on where it's made. Regardless, it makes for an amazing side dish or a comforting main meal for the family. In this recipe, I use the pan to cook the noodles and I use the Thermomix to make the gravy.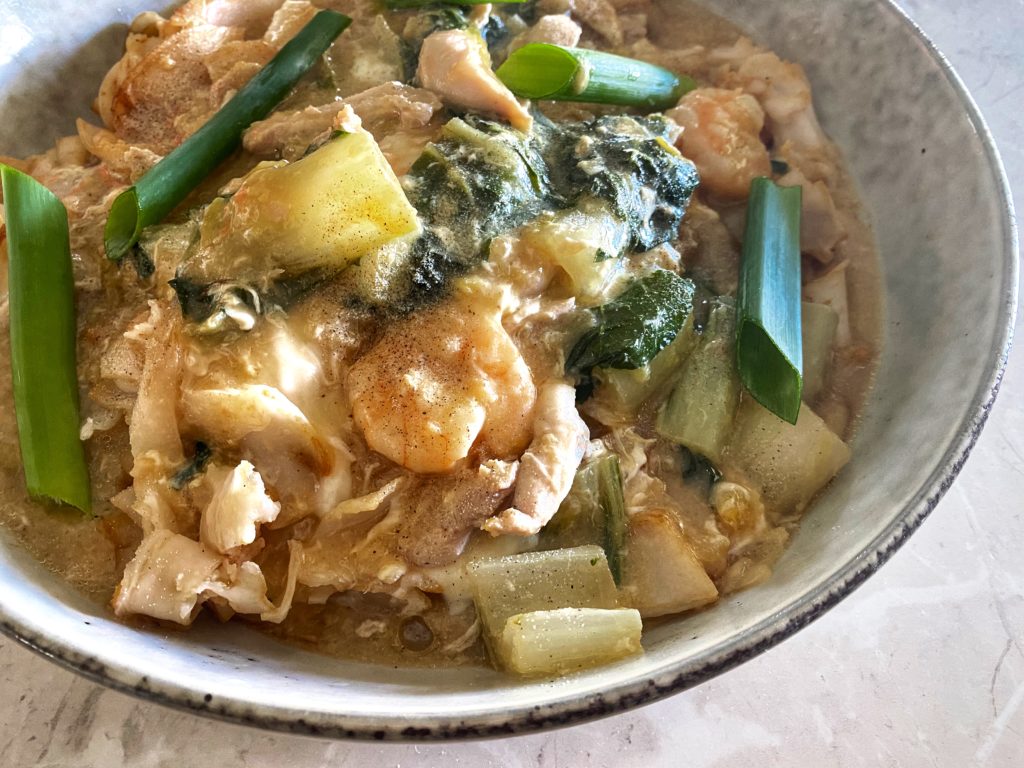 Prep and Cooking Time – 20 minutes | Serves – 4 to 6
Ingredients
For the noodles…
10g oil
500g fresh flat rice noodles
1 to 2 Tablespoons dark soy sauce and soy sauce (for colour)
For the gravy…
4 cloves garlic (30g)
1 small spring onion – white section (30g)
20g oil
250g protein (I use a combination of chicken and prawns)
150g Asian vegetables (I used puk choy)
250g chicken liquid stock
10g fish sauce
15g oyster sauce
20g light soy sauce
Cornflour paste (1 Tablespoon cornflour + 1 Tablespoon water)
2 eggs, lightly beaten
white pepper to season

Method
Quickly blanche the noodles in hot/boiling water to prevent them from sticking together. Drain the water.
Heat a fry pan onto medium – high heat and coat with oil (enough to coat the pan). Once hot, fry the egg noodles with dark soy sauce and soy sauce. Once charred, transfer onto serving plate and set aside. 
Place garlic and onion into bowl and chop 3 sec / speed 5. Add oil and cook 3 mins / varoma / speed 1. Scrape down the bowl.
Add protein and vegetables and cook 4 mins / Varoma / reverse / speed 1. Scrape down the bowl.
Add liquid stock, oyster sauce, fish sauce and light soy sauce. Cook for 4 mins / Varoma / reverse / speed 1. As this is cooking, have the cornflour paste and beaten eggs ready. 
Once the gravy is cooked, add the cornflour paste and beaten eggs. Stir gently with your spatula distributing the eggs and cornflour, while also loosening any protein caught underneath the blades. 
Pour gravy on top of charred noodles and serve immediately. 
** Thanks to Tanya of Aussie Thermomixer for the inspiration.