Vegetables in Oriental White Sauce
For someone who doesn't come from a meat-and-vegetable-for-dinner family, I'm trying super hard to add more vegetables into our meals and this recipe helps me to achieve that. What I like about this dish is that it makes heaps so it can feed a crowd. I also find it particularly great for when I need to meal plan as it's great for accompanying marinated teriyaki salmon or honey and soy chicken cutlets. Regular LaLa's Kitchen cooks may recognise this recipe and that's because my Crispy Peking Duck with Chinese Vegetables in White Sauce recipe gave me inspiration to make it a stand alone recipe.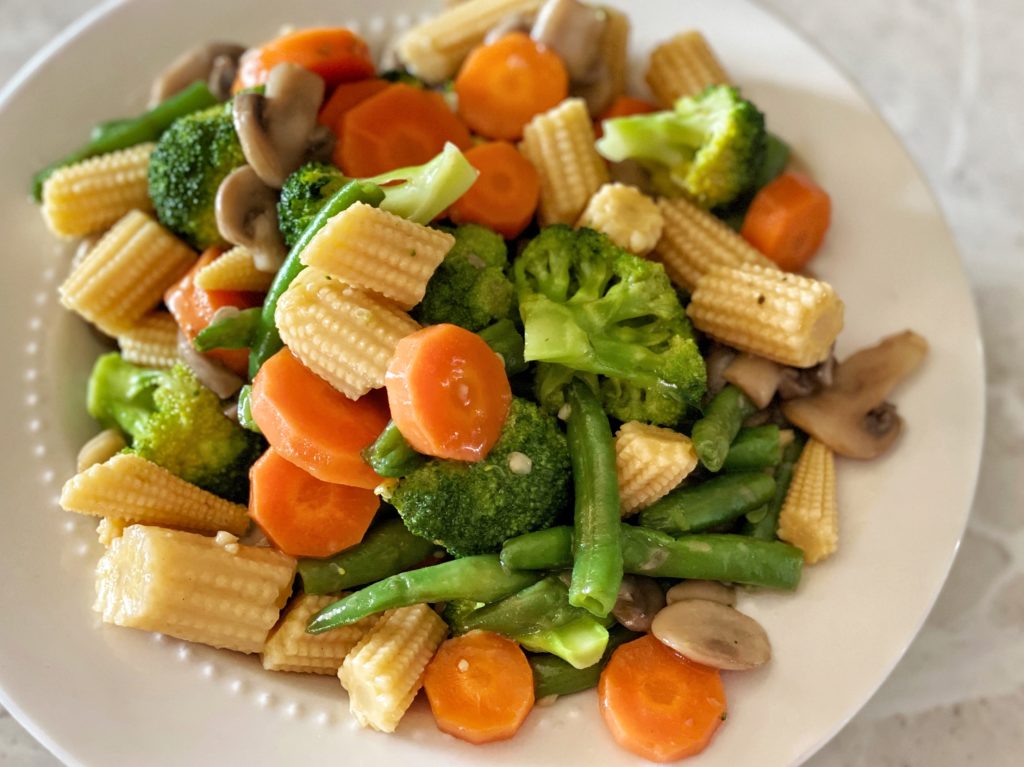 Prep and Cooking Time – 15 minutes | Serves 4 – 6
Ingredients
– 150g fresh broccoli florets
– 2 carrots, sliced
– 1 can of baby corn, cut into pieces
– 150g beans, cut into pieces
– 400g water
– 30g sesame oil
– 20g minced garlic
– 250g punnet sliced mushrooms
For the white sauce…
– 1/2 teaspoon salt
– 1/2 teaspoon fish sauce
– 1/2 Tablespoon sugar
– 1/2 Tablespoon corn starch
– 5 Tablespoons water
– 1 teaspoon Shaoxing wine
Equipment
Simmering Basket
Spatula
Small separate bowl
Method
Place 400g water into the TM bowl and place all vegetables, except for the mushrooms, into the simmering basket.
Insert filled simmering basket into TM bowl and steam 10 mins / Varoma / speed 2 / MC on. Once cooked, set aside simmering basket and empty water from TM bowl.
Mix the sauce ingredients in a small bowl until everything is dissolved. Set aside.
Place oil and garlic into the TM bowl and heat 1 min / 100oC / speed 1 / MC on.
Add sliced mushrooms and white sauce mix into the TM bowl and cook for 5 mins / 100oC / reverse / speed 1 / MC on.
Add reserved steamed vegetables to the TM bowl and combine 10 sec / reverse / speed 2.
Serve immediately or keep warm in a ThermoServer.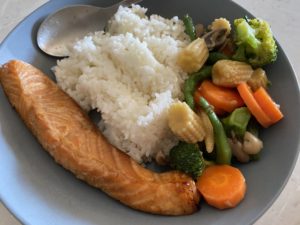 Notes and Variations
You can use any combination of vegetables in this recipes however when substituting, be mindful of steaming times. Please refer to your Basic Cookbook with regards to steaming types for your preferred vegetables.
Also, my family doesn't mind semi-crispy vegetables and 10 minutes in the simmering basket is perfect for us. Adjust your vegetable cooking time in accordance with your texture preference.