Vegetarian Pizza
Back in the day I used to follow Weight Watchers recipes and I saw a memory on my personal Facebook feed where I made their Vegetarian Pizza recipe. I recalled the pizza being quite good and thought to recreate it, with the addition of using caramelised onion. This pizza was well received by my boys and I think it was great that it got a look in amongst all the other meat pizzas because we could all use more vegetables in our diet!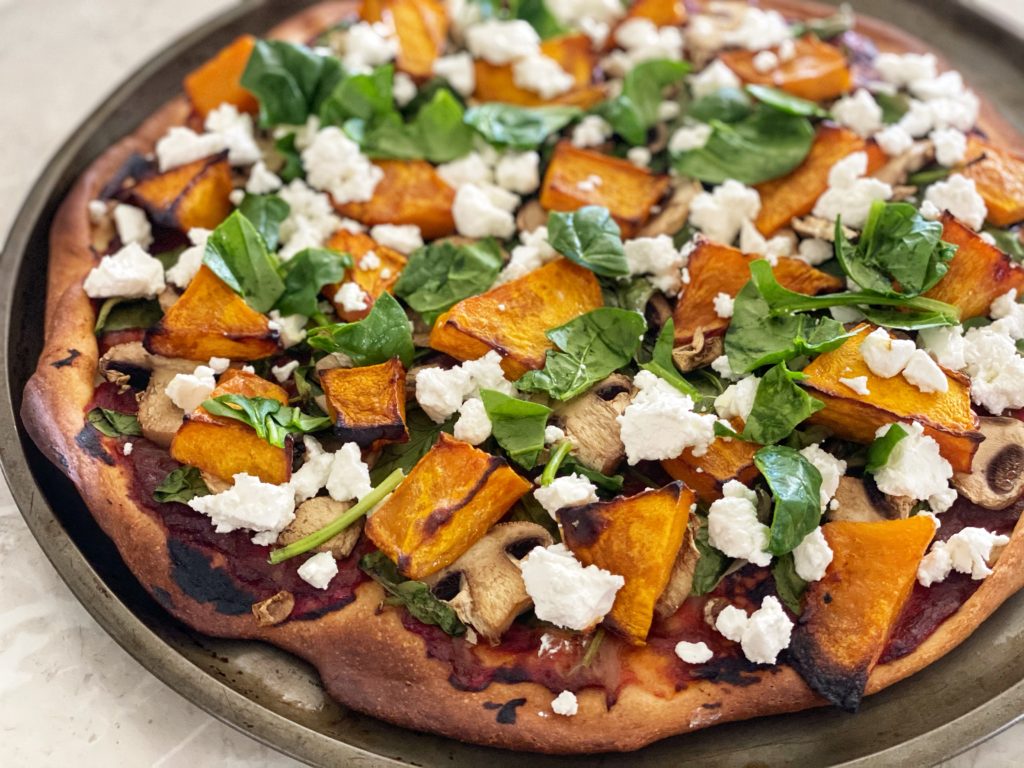 Prep and Cooking Time – 35 mins (excluding proving) | Serves – makes 2 pizzas
Ingredients
pizza base (I used this recipe)
3 Tablespoon Caramlised Onion (I used red onion and made this recipe)
Olive oil
Kent pumpkin, approximately 500g peeled and cut into flat 3cm pieces
2 Tablespoon tomato paste
60g baby spinach
1 punnet sliced mushrooms
200g Danish feta
Method
Steps that can be done in advance…
If making from scratch, prepare your pizza base and caramelised onion.
Preheat oven to 180oC (fan forced). Place pumpkin on a lined baking tray and drizzled with olive oil. Roast pumpkin until cooked, approximately 30 minutes. Once cooked, set roast pumpkin aside to cool.
Assembling and cooking the pizza…
Preheat oven to 230oC (fan forced).
Sparingly spread tomato paste onto the pizza base. Then liberally spread caramelised onion on top.
Cover the base with fresh baby spinach, followed by sliced mushrooms and sliced roasted pumpkin. Cook pizza for 10-15 minutes.
Once pizza is cooked, top with fresh shredded spinach and crumbled ricotta.
Notes and Variations
The caramelised onion made a fantastic base to this recipe. You can add as many vegetables as your heart desires, and even include some pine nuts to give it a bit of texture.
Also, roasting the pumpkin with garlic would add another flavour dimension to this pizza and hey, one can never have too much garlic!