Pancit (Filipino Rice Noodles)
I've always been a noodles girl so it should come to no surprise that Pancit is another childhood favourite of mine. It had its place on my plastic plate at every family function, next to the Lichon (suckling pig), Filipino Spaghetti and other delights. I have blogged a base version of this recipe so it can be tailored to suit your tastebuds – add your own cooked meat if you like (prawns, chicken, pork belly) or if you're vegetarian, add more cooked vegetables such as snow peas. The possibilities are endless and it makes a lot so while it can be enjoyed as a side dish to share with others, it can also be a main meal on its own.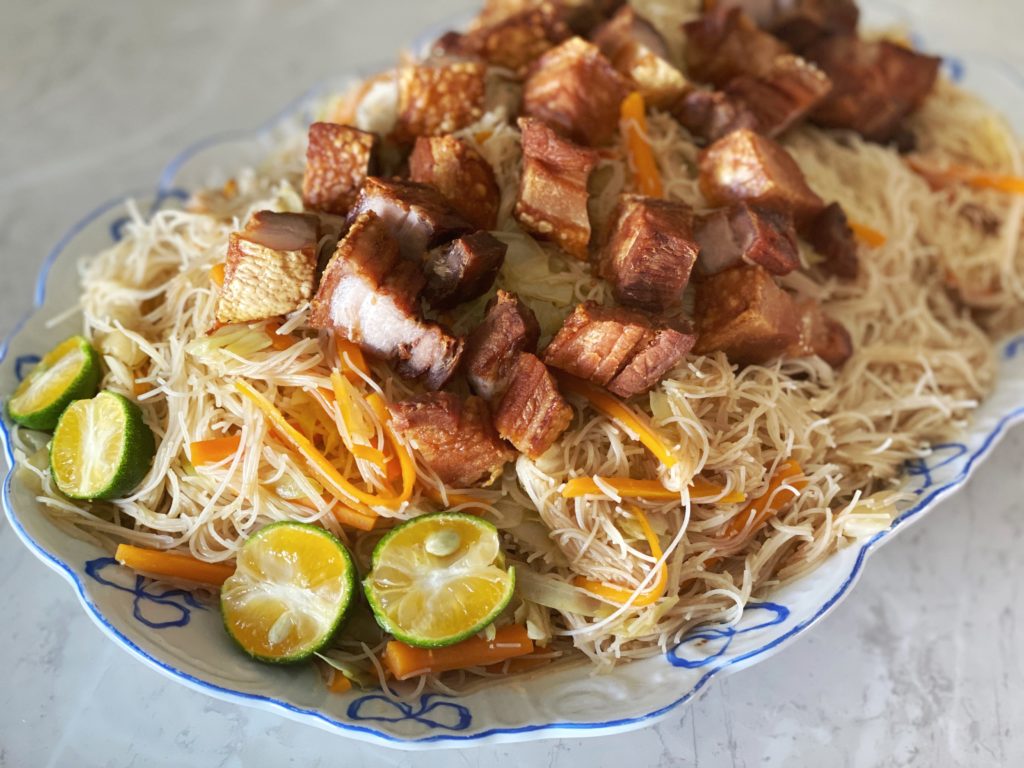 Prep and Cooking Time – 30 minutes | Serves – 6 to 8
Ingredients
25g minced garlic
40g oil
1 carrot julienned (approximately 80g)
150g cabbage, cut into strips
500g water
30g soy sauce
30g oyster sauce
20g dark soy sauce
2 teaspoons fish sauce
350g vermicelli rice noodles, rinsed
To garnish…
Cooked meat of choice (prawns, chicken, pork belly)
Calamansi / Kumquat citrus fruit
Method
Add garlic, oil and julienned carrot into the TM bowl and sauté 5 mins / 120oC / reverse / speed soft.
Add water, cabbage, both types of soy sauces, oyster sauce and fish sauce. Cook for a further 4 mins / 120oC / reverse / speed soft.
Add softened rice noodles into the TM bowl and cook 4 mins / Varoma / reverse / speed soft.
Transfer onto a serving dish and top with cooked meat of choice. Serve hot and enjoy with drizzled calamansi juice stirred through.